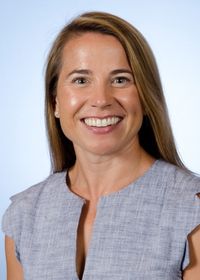 Megan Nechanicky, Nutrition Manager, General Mills
Bell Institute of Health & Nutrition
General Mills
Megan has been at General Mills for 8 years and is currently the Nutrition Manager for the North American Retail business (U.S. & Canada) where she leads a team of nutrition professional to growth and protect the business in the space of health & wellness. She also works externally with government, trade associations and academic institutions to positively position General Mills for future growth. She has had prior roles supported other General Mills regions working as the Health & Nutrition leader for Canada and Europe & Australia where she built and advanced nutrition science, research and communications. When Megan first joined General Mills, she led health influencer communications for some of General Mills largest brands including Cheerios, Fiber One and Nature Valley. In this role, she delivered cutting-edge science, consumer trends and new product development and marketing to health influencers such as dietitians, physicians, nurses and fitness professionals. Prior to General Mills, Megan was the first dietitian to work at the President's Council on Fitness, Sports and Nutrition. In her role, Megan led nutrition and physical activity-related initiatives and events. Megan was also responsible for the Department of Health and Human Services coordination of First Lady Michelle Obama's Let's Move! initiative to end childhood obesity within a generation. Megan is a Registered Dietitian and holds a bachelor's degree in food marketing from Saint Joseph's University in Philadelphia, PA and a dual master's degree in exercise physiology and nutrition from San Diego State University.
Nutrient Dense Foods and Associated Nutrient Intakes Across Different Income Levels
Findings from the 2015 Canadian Community Health Survey will be presented on the association between breakfast and ready-to-eat (RTE) cereal intake and dietary outcomes among Canadian children across varying income levels. RTE cereal intake was associated with better dietary outcomes, including increased intake of under-consumed nutrients and higher diet quality, at all income levels. These findings will highlight how affordable, popular and nutrient dense foods can help support healthy dietary patterns among Canadian children across all income levels. These findings can help inform future dietary recommendations.