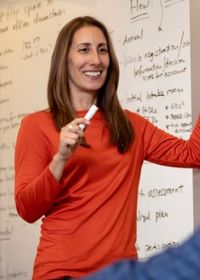 Lisa Renzi-Hammond, Associate Professor; Co-Director, Cognitive Aging Research and Education Center
Department of Health Promotion and Behavior; College of Public Health
The University of Georgia
Dr. Lisa Renzi-Hammond earned her B.S., M.S. and doctorate degrees in from the Psychology Department at the University of Georgia. While at the University of Georgia, Dr. Renzi-Hammond specialized in visual neuroscience and neurological development and studied the ways in which implementing behavioral changes, such as dietary intervention, influenced sensory and neurological development. Dr. Renzi-Hammond completed her postdoctoral fellowship at the University of Texas at Austin as a member of three different disciplinary groups: the Center for Perceptual Systems, the Institute for Neuroscience, and the Nutrition Sciences Department. Dr. Renzi-Hammond also served as a visiting scientist at the Jean Mayer USDA Human Nutrition Center on Aging at Tufts University in Boston, MA, where she was a member of the Carotenoids in Health Laboratory. Following her graduate and post-graduate training, Dr. Renzi-Hammond returned to the University of Georgia as faculty, where she founded the Human Biofactors Laboratory and published numerous peer-reviewed articles and book chapters on the topic of nutrition and visual and neurological function. She has presented this research in a wide variety of national and international venues, including the TED stage. She is currently an Associate Professor in the College of Public Health and serves as the Interdisciplinary Group Lead for Cognitive and Behavioral Neuroscience in Integrated Life Sciences at UGA. Her latest project is the development of the Cognitive Aging Research and Education (CARE) initiative at the University of Georgia, focused on preventing neurodegenerative disease and improving brain health in rural and underserved communities.
Intelligent microbes: the role of nutrition in gut-brain axis development throughout the lifespan
Remote speaker / Presenting virtually
The role of nutrition in brain development has primarily been focused on using food (from human milk to specialty diets later in life) to deliver key nutrients that change the structure, and therefore function, of the brain. Nutrition may also impact brain development through other mechanisms, such as by supporting structures that, themselves, affect brain development. The purpose of this presentation is 1) explore the role of nutrition in supporting human gut microbial ecology, and 2) to examine how that supported gut microbial ecology can affect brain development. Although this presentation will present a life course approach, much of the presentation will focus on early life and the role of human milk oligosaccharides in developing the gut-brain axis.