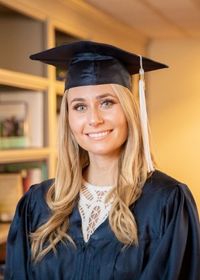 Nicole Ingham, MSc Candidate, McGill University
Human Nutrition
McGill University
Remote speaker / Presenting virtually

Nicole Ingham is a MSc Candidate in the Department of Human Nutrition at McGill University under the supervision of Dr. Daiva Nielsen. She received a BSc in BioBehavioural Health from The Pennsylvania State University in 2019. Her undergraduate education focused on biology and statistics led her to pursue a master's degree in Nutritional Epidemiology.
A weak social environment is associated with high nutritional risk status in a cohort of Canadian adults
This study utilized baseline data from the Canadian Longitudinal Study on Aging to evaluate associations between strength of social environment (SE) and nutritional risk among middle-aged participants (45-64 years, n = 13,283) and older-aged participants (>65 years, n = 7975). Latent class analysis classified participants into strength of social environment groups.  Analysis of covariance, with Tukey's pairwise comparisons, compared adjusted marginal means of the nutritional risk score by strength of SE group(Class A (high); Class B (medium); Class C (low). Nutritional risk scores significantly differed between SE groups, for both age groups (Middle-aged: Group A: 40.47, (95% CI [40.32, 40.62]; Group B: 39.42, (95% CI [39.26, 39.58]) ; Group C: 36.61 (95% CI [36.36, 36.86]), p<0 charset="UTF-8">(p <0 charset="UTF-8">No significant difference was seen in frequency of dairy consumption (times per day) for middle-aged individuals (p=0.568) and older-aged individuals (p=0.435) for those at risk vs. not at risk.